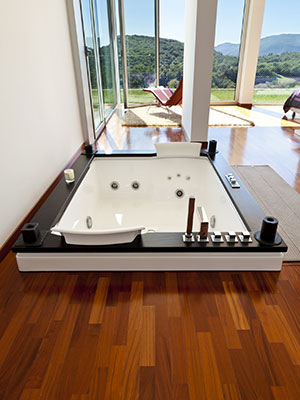 Having a hot tub or spa is a luxury that more and more people are able to enjoy, with a variety of sizes and types of hot tubs at affordable prices. Of course, with the installation of a hot tub or spa, there's a need for the electrical work to ensure a properly functioning system. But anytime you're dealing with electricity and water, you're facing a potentially dangerous system. The wiring needs to be meticulously installed and maintained to ensure the safety of everyone around, and to prevent damage to your Chicago property.
That's why it's especially important to trust the work to an electrical professional with extensive experience with hot tub & spa electrical work in Chicago. At Chicago Thomsen Electric Services Inc., we have a great reputation for the best and safest electrical installations and repairs, which includes hot tubs and spa systems. Don't take unnecessary risks with your property and life. Leave the crucial electrical work to us, and you can start enjoying your hot tub or spa in no time.
Residential Hot Tubs & Spas
Many homes in the Chicago area feature a hot tub or spa for their residents' and guests' enjoyment. They're fun and relaxing, and add value to your home. However, they also need specialized electrical work to run properly, as well as periodic checkups to make sure no wiring or functional problems have arisen. Chicago Thomsen Electric Services Inc. has experience with all types of home spas and hot tubs, and we're licensed and insured to protect your investment and your family.
Commercial Hot Tubs & Spas
Hot tubs and spas are a frequent luxury for many hotels, clubs, salons, and swimming pools. The high use of commercial hot tubs requires professional installation and repair of their electrical systems. It's also crucial to schedule regular inspections and maintenance of hot tub & spa electrical systems in Chicago, to prevent customer injury, and to keep them open for everyone's enjoyment.
When it comes to your residential or commercial hot tub or spa system, you'll want to trust the electrical contractors with experience and professionalism. Call Chicago Services Inc. today, and we'll be happy to answer any questions you have about your home or business's hot tubs and spas.